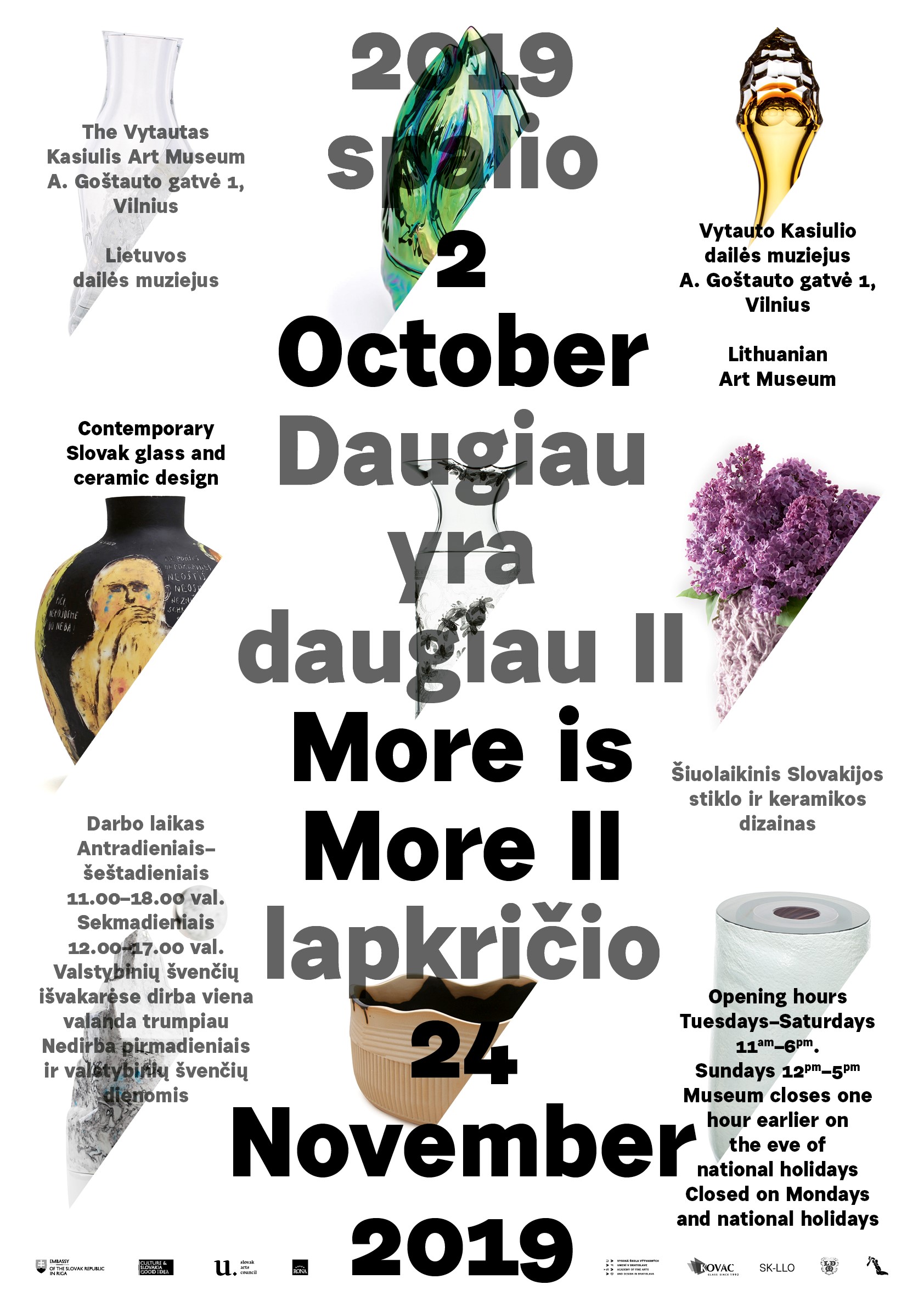 "Ah, but if less is more, then just think of how much more "more" will be!"
(Fraiser Crane, main character in American show "Fraiser")
The ambition of the exhibition More is More II is above all to introduce to the public the most interesting and the most ambitious realizations within glass and ceramic design that have emerged in Slovakia in recent years.
The selection of design works presents the creations of authors belonging to the youngest and middle generation alongside those of students from the Academy of Fine Arts and Design in Bratislava, Studio of Glass and Studio of Ceramics.
Displayed design works do not strictly comply with the traditional understating of design as an object of utility. Utility is in fact only one of its characteristics – its visual, symbolic and emotional quality is equally important. These design objects were at the same time mostly made as original solitaires or as part of small author´s collections.
Author´s design is a relatively new phenomenon in Slovak design. It developed naturally as a reaction to fading ceramic and glass industry (Porcelain production in Slovakia is actually non-existing; while there are two glass making factories.).
Designers using ceramics and porcelain work in their own studios and workshops. They frequently express their intimate stories through technology and material.
Glass production is technologically and financially much more demanding. It thus cannot be made without support of necessary infrastructure. Authors therefore create directly in glass factories in Slovakia, Poland but most times in Czech Republic which probably provides the largest scale of facilities with appropriate technology. For this reason, the aesthetics of industrial production consciously reflect their work.
The exhibition More is More II presents a great variety of artistic perspectives and technological experiments. The diversity and originality of approaches is possibly the most typical feature of contemporary Slovak glass and ceramic design. Each author strives for her or his own inventive path. The creation itself primarily lies in pleasure of discovering the possible…
Assoc. Prof. Patrik Illo
Head, Studio of Glass
Academy of Fine Arts and Design in Bratislava
Artists:
Peter Ďuriš, Patrik Illo, Simona Janišová, Michaela Stanová Koprdová, Igor Kováč, Lucia Betinská Kováčiková, Petra Molnárová, Markéta Nováková, Ľubomír Ontkóc, Mira Podmanická, Rudolf Rusňák, Aleksandra Stencel, Zuzana Svatik, Linda Viková